Hello Coloring fans!
I have a card Re-Make for today's post celebrating Kathy Rac's 10th The Daily Marker 30 Day Coloring Challenge #thedailymarker30day.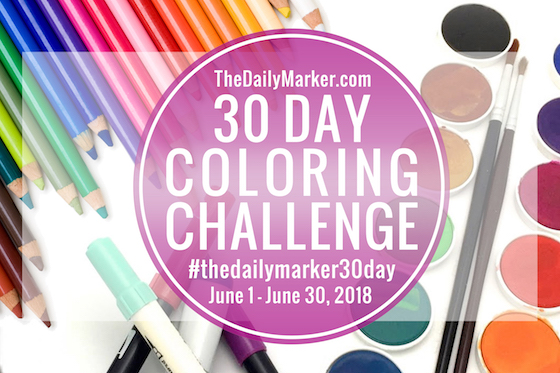 The challenge starts today and ends on June 30, 2018. All it takes to participate in the challenge is color something for 10 minutes a day, and share your progress:)
Hope you take the opportunity to join in.
For Day 1: I wanted to share a card I've spent many days coloring. I do like to sneak in a minute her and a minute there and watch how a card emerges!
Here is the original card I made for the
May 2018 Stamp and Die release at Altenew
:
All layers of the stamp set
Fabulous Floral Stamp Set
are inked with
Crisp Inks
After taking the Magical Marker Techniques class at Altenew Academy I wanted to try adding more, and more details with the Artistic Markers.
Here is the Re-do card:)
same layout, different elements added to the background, details added with markers
To make this card:
I inked the
Fabulous Floral Stamp Set with Crisp Inks:
Cherry Blossom minis, Shades of Purple,
Pocketful of Sunshine minis
, and
Sea Shore minis
Next I added more details to the florals with the

Artistic Markers

:

R702, R705, R335, R902R302, R304
Created a mask for the floral arrangement

Cut a stencil onto masking paper with the

Mandala Die,

placed it over the masked arrangement, and inked a "doily" to go under the fabulous florals using Arctic crisp ink

Removed the stencil mask

Inked the small posy stamp from

CROWN BLOOM

stamp set with Evening Gray crisp ink several times

Created splatters with the

Artistic Markers: WG05, WG07, and S as described in the Magical Marker Techniques day 4, with rubbing alcohol
Removed the mask from the floral arrangement

Added shadows with markers and fine line details

with Ziggys.

Stamped JUST BECAUSE with Jet Black
I'm thrilled with how this turned out...After several coloring sessions, it is fun to see how different the Fabulous Floral stamp set can look with just a few marker details.
I'm adding this to the
AECP Gallery for Level two.
****I am part of Altenew's affiliate program. Which means I earn a small commission at no additional cost to you every time you click through and purchase product(s) linked in this post. Thank you for your support!
FREE U.S. shipping with code: USFREE
or
$5 OFF international shipping with code

:

SHIP7OFF
at checkout.
You can also find me:
Instagram
@mammacooksalot
YouTube:
Mamma LauraJane